After logging in to MT4 with the server name "MiltonTech-Platform", please make sure you are selecting the instruments which end with .m
e.g.
USDJPY -> this instrument is NOT tradable because it does not end with .m
USDJPY.m ->This is tradable. All our instruments end with .m
How to show ".m" instruments:
MT4 Desktop
Simply right-click Market Watch.
Click Show All.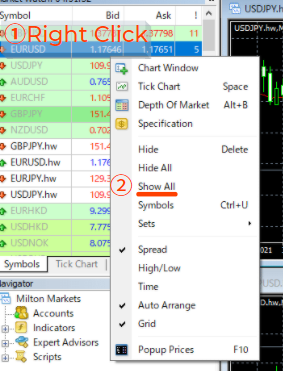 MT4 app for iOS
Tap + in the top right corner of the screen.
Select a group of symbols.
Tap the green + to add instrument(s).
Tap Done.


↓


↓


↓





MT4 app for Android
Tap + in the top-right corner of the screen.
Select a group of symbols.
Tap the instrument(s) you want to add.
Tap the Back button.




↓

↓